The mullet was king of haircuts in the '80s, and it was rocking! Business in the front and party in the back! Now, however, not so much. We evolve our hair cuts and fashion choices to keep up with the times while still expressing our individuality.
This is much the same as how a brand needs to evolve and keep relevant while still expressing who they are. In a world where attention spans are short and trends change like the wind, this is no easy task. Unless, of course, you have our help!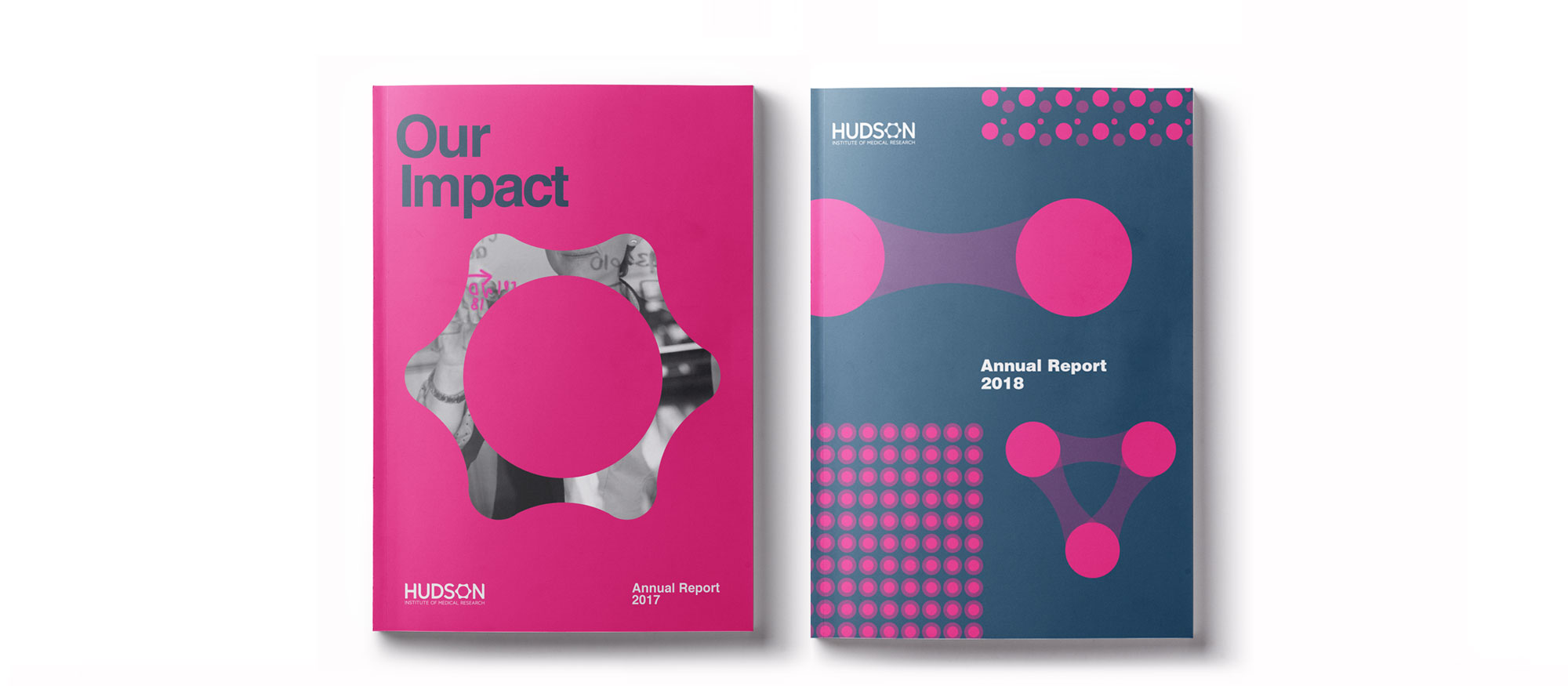 In this blog, we'll take a look at Hudson Institute of Medical Research and how we've worked with their existing brand to keep things fresh and ahead of the times, an intrinsically important element of branding and serious challenge for most businesses. With our help, Hudson Institute is able to stay ahead of the pack while adapting to the wants of the modern design world.
The Original brand
We started working with Hudson in 2016. They had a beautiful logo and colour palette that represented a modern medical research organisation, so we had an excellent base to start with
Styling a Brand
If you've ever been lucky enough to have a personal stylist handling an image consult, this is the process:
The stylist audits your wardrobe
Some items go to the trash some stay
The stylist then finds you some fundamental basics such as a good pair of jeans, a black dress, a white top, black pants
Fun and colourful pieces are then added, creating a fashion system that can be worn in a variety of combinations
The personal stylist approach is similar to Hudson Institute's brand evolution. We liked their logo and colour palette. The colours just needed some brighter ones to jump out and command attention. Their palette is warm purple and pinks, so we added a hot pink, bright purple, and orange, to complement the base colours with a little added a kick.

The existing logo worked ok on its own, but only on white cover pages which were limited. We took the shape of the logo and made it a solid graphic element to highlight images and essential data. Not only did this look cool, but it also drilled in the brand so if you glance at any of the collateral, you instantly recognise it as Hudson Institute.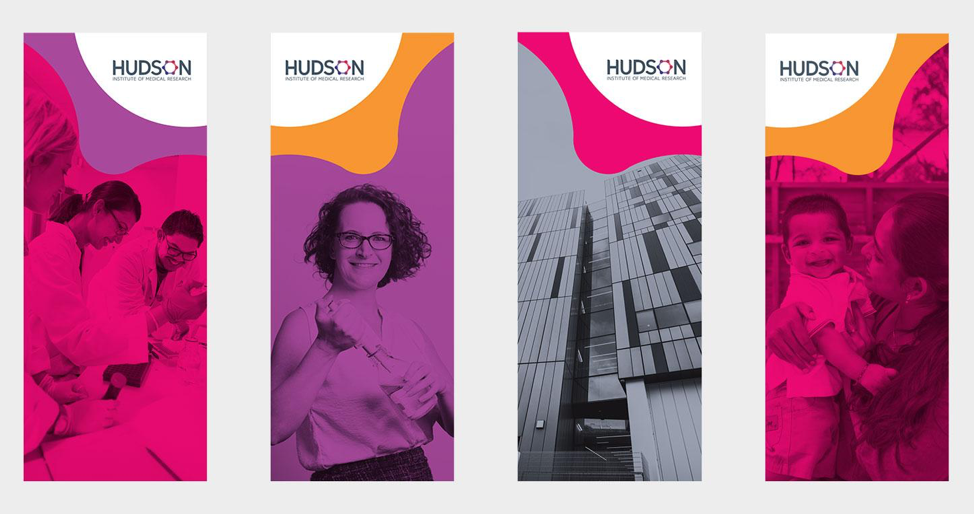 New Areas of Focus
Now the brand was starting to take shape. We had moved on from the khaki pants and sweater vest and were now rocking the bold cocktail dress; the winks were beginning to flow in! Their 2017 Annual Report stood out in a competitive industry. There was no mistaking that the bright pink and ring graphic was Hudson Institute of Medical Research, it was confident, innovative, and bold.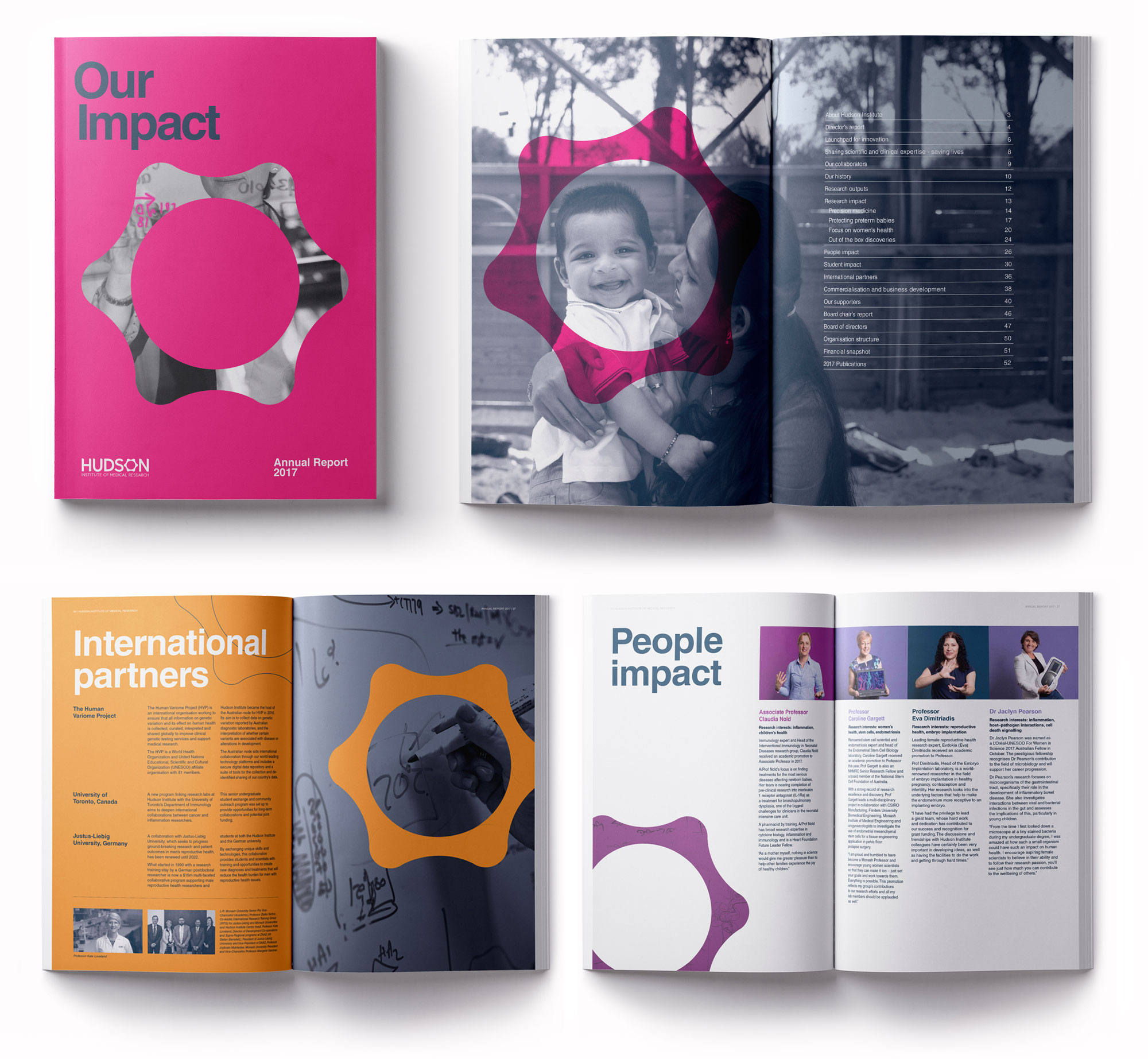 In 2018, there was a change of leadership and structure within Hudson Institute's organisation. They wanted to focus on four areas of research:
Cancer
Reproductive health and pregnancy
Infant and child health
Inflammation
Understanding these were the key messages Hudson Institute wished to express, we looked at their fundamental pieces, which were the logo, colour palette and ring graphic. We knew that adding extra colours would be too busy, something that wouldn't quite suit Hudson Institute's aesthetic. So we looked at how we could incorporate more graphics to represent the four research areas.
Using the circles and connector shapes from the existing logo, we looked at the most basic way to express the research areas.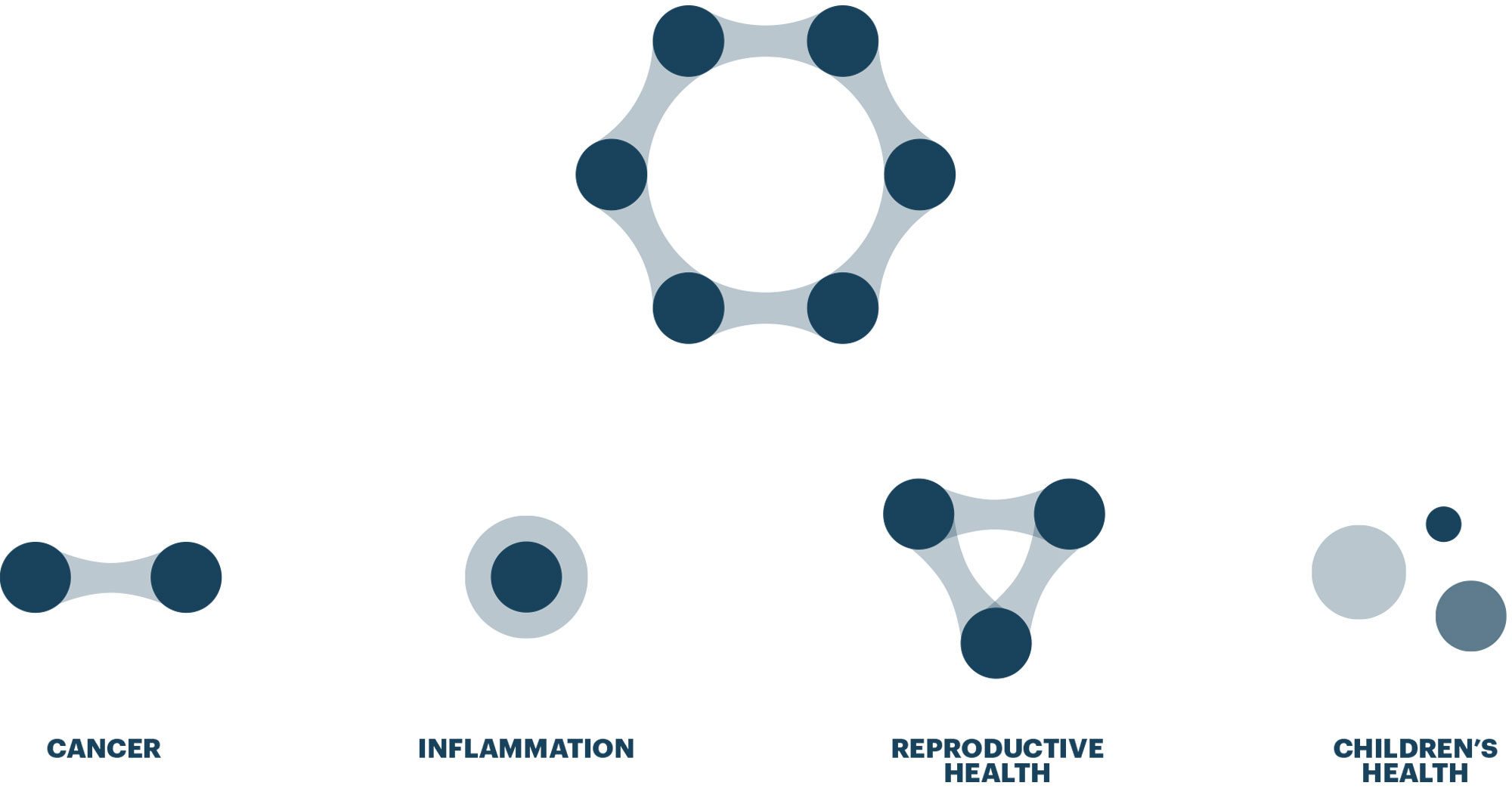 Cancer: Two cells splitting
Inflammation: Swelling and spreading
Reproductive Health: Uterus
Children's Health: Playful use of the pattern
These symbols could be used on their own or as a pattern, and because they grew from the 'fundamental basics,' they looked great with the existing brand. The icons and patterns add a sophisticated design element which helps set Hudson apart.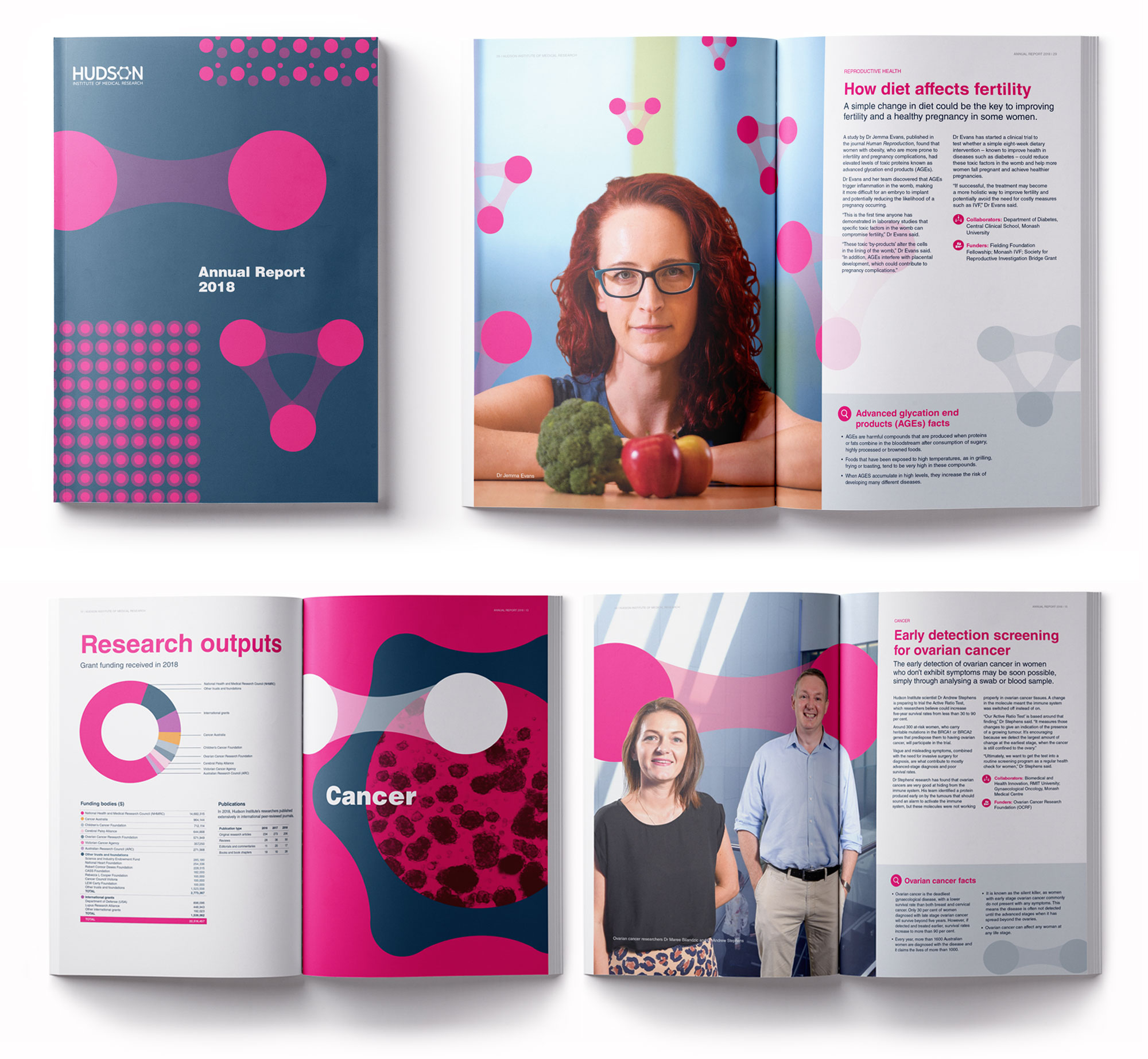 A Versatile, Fashionable Brand
The evolution of small design aspects each year keeps Hudson Institute's brand relevant and ever-changing. Using the original elements of the brand, while building on them, Hudson Institute remains easily recognisable. The business is then able to embrace the trust and credibility they have built over the years.
We live in a time of constant change, which also means heightened customer expectations. One of the most significant issues businesses today face is the loss of brand relevance. As new trends emerge, customers expect more from brands, which means staying ahead of the competition, while also being relevant is no easy task. Brands must evolve in a way that meets their needs and differentiates them from competitors.
With our help, Hudson Institute is now the ultimate fashionista. A versatile wardrobe with fundamental and fun pieces that make hundreds of combinations.
Speak to us today about keeping your branding relevant while incorporating user experience design to ensure excellent usability as well as looks!
Interested in updating your brand
We'd love to chat about how we can refresh your brand